Here are items featured in this year's live auction at

Bucks for Ducks

.

Take a look and plan ahead for bidding!


Thank you to all the businesses and individuals who donated items.
**********
#1
"Yolo Reflections" by John Nichols
Donated by John Nichols
24" x 30", oil on canvas mounted on wood floater frame
"Watching a sunrise or sunset provides the viewer with a better sense of gratitude for the world we live in. There is nothing more spectacular than the ever-changing sunrises and sunsets of the Yolo Bypass and surrounding areas. With this piece, I tried to capture the stunning yet calming moment during one of our sunsets reflecting on the surrounding still waters, offering a sense of peace to the viewer."
John Nichols lives in West Sacramento and enjoys the outdoors and painting places he loves to be. Painting mainly with oils, John enjoys creating still life pieces as well as a variety of landscapes. He is actively involved in advancing the arts in his community.
---
#2
"Comet Neowise over the Umbrella Barn, Yolo Bypass Wildlife Area, Davis, CA" by Lewis Kemper
Donated by Lewis Kemper
25" x 36", matted and framed
"I was excited to see and photograph the comet, especially since it came after we had been locked down for several months. The chance to get out and witness one of nature's most spectacular occurrences was irresistible. I really needed a good foreground element if I wanted to get a great picture, and I thought of the Umbrella Barn. We got permission to go out to the Tule Ranch. As soon as we pulled up, and I could see the relationship between the barn and the comet, I knew it was going to be good! And to top it off, there were no mosquitos!"
Lewis Kemper has been photographing the natural beauty of North America and its parklands for over 40 years. During his extensive travels, he has been to 47 states from Alaska to Florida. His international travel has taken him to over 10 countries. His work has been published in magazines, books, and calendars worldwide. He is married to Yolo Basin Foundation's Education Coordinator, Heidi Satter.
---
#3
"Tornado Warning" by Beth Savidge
Donated by Beth Savidge; mounting and frame donated by Blue Wing Gallery.
25" x 36", matted and framed
"Late last September, I headed into one of my favorite places, the Yolo Bypass, to take photos of the incoming stormy weather. The sky continued to darken and soon I was getting calls that there was an actual tornado warning and I should take cover. I stayed to take photos until the lightning was getting close. Soon after, the storm spawned a rare Yolo County tornado! I was happy to have captured the exciting storm!"
Beth Savidge is a local photographer who enjoys capturing the beauty of Yolo County, whether it be agricultural scenes or subjects, landscapes, and botanicals.
---
#4
Ivation 12 Bottle Wine Cooler and 17 Bottles of Quality Wine
Donated by Yolo Basin Foundation Board of Directors and Walmart, West Sacramento
Enjoy 17 bottles of wine that can be stored in a provided 12 bottle compressor wine cooler refrigerator that has digital controls which can adjust to temperatures between 41-64 degrees Fahrenheit. The wine cooler has a glass black door and adjustable shelves.
Berryessa Gap, Malbec, 2016, Winters, CA
Christine Andrew, Cabernet Franc, 2016, Lodi, CA
Christine Andrew, Old Vine Zinfandel, 2016, Lodi, CA
Christine Andrew, Old Vine Zinfandel, 2016, Lodi, CA
Domain Magdalena Red Mountain, Cabernet Sauvignon, 2016, RMAVA Grand Class, Domaine Magdalena Vineyard, WA
Edizione Pennino, Inglenook Rutherford Napa Valley Zinfandel, 2017, Rutherford, CA
Elevation Ten, Cabernet Sauvignon, 2016 Reserve Collection, Alexander Valley, CA
Elio Fillippino, Barbaresco, Sori Capelli, 2012, Neive, Italy
Goldeneye, Pinot Noir, 2016, Anderson Valley, CA
Hatcher, Estate Zinfandel, 2014, Calaveras County, CA
Ironstone, Cabernet Franc, 2018, Lodi, CA
Ironstone, Chardonnay, 2017 Reserve, Estate Grown, Sierra Foothills, CA
Malabaila Di Canale, Donna Costanza Roero, 2014, Canale, Italy
Marchesi Gondi, Villa Bossi, Chianti Rufina D.O.C.G. Riserva, 2012, Pontassieve, Italia
Paraduxx, Proprietary Red Wine, 2017, Napa Valley, CA
Villa Terlina, Monsicuro, Barbera D'Asti, 2013, Agliano Terme, Italia
---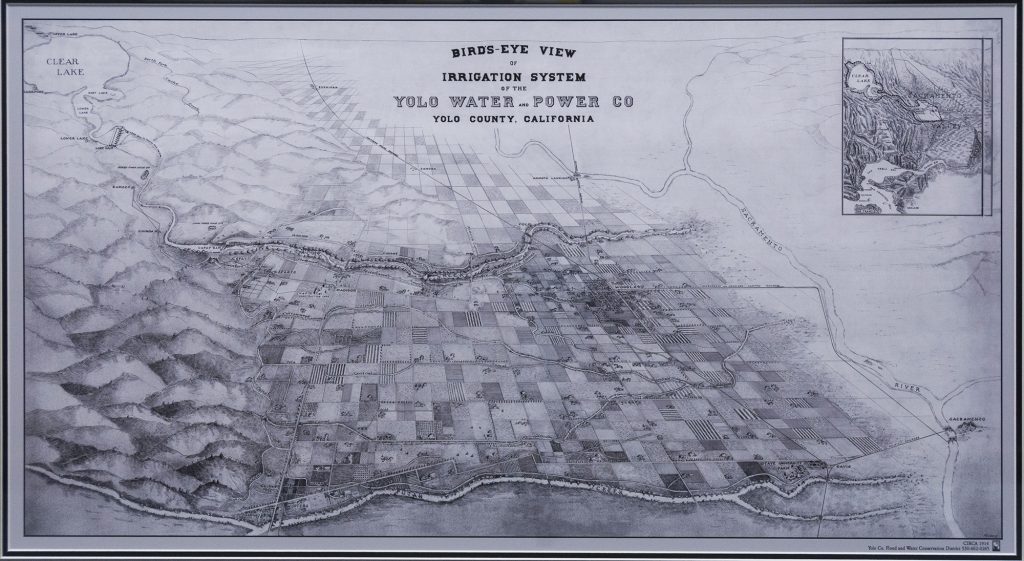 #5
Bird's-Eye View of the Irrigation System of the Yolo Water and Power Co., Yolo County, California
Donated by Yolo County Flood Control and Water Conservation District
28" x 44", matted and framed
This finely detailed reprint provides a graphic overview of the Clear Lake and Cache Creek watershed circa 1913. Produced as a promotional piece to provide the investor with an understanding of the existing and planned irrigation system, this map lays out the main components of what is today the water distribution system maintained and operated by the Yolo County Flood Control and Water Conservation District (YCFCWCD).
Have fun discovering features since the map was published that have changed and which remain the same!
---
#6
"Evening Glow Over the Causeway" by Joseph Bellacera
Donated by Joseph Bellacera
18" x 18", oil and mixed media painting on panel
"This is part of a larger body of my landscape paintings that focus on the Yolo Bypass Wildlife Area. This area is so fascinating because of its ever-changing geography depending on the seasons. Sometimes it is a landscape of rice fields; sometimes a completely flooded body of water. The sky over this area presents an uncommon spatial vastness and drama of light. The first time I visited the area in late August, I expected to see only brown, dried grasses and cracked earth. Instead, I discovered the most glorious fields of wildflowers in a wetland setting filled with birds."
Nature and luminosity inspire the work of Joseph Bellacera. His primary subject matter is the perception of space, light, and patterning. "I use the alchemy of color and light to create the experience of seeing something, as if for the first time, before we define, name, and categorize it. In this way, through painting or sculpture, the mystery and awe of discovery and creation is continuously renewed." A very prolific artist, Bellacera exhibits throughout the United States and his work can be seen in many private and corporate collections as well as public institutions including hospitals, libraries, and colleges.