Did you know that colonies of migratory bats live under the Yolo Causeway during the summer? Join the Yolo Basin Foundation for a summertime Bat Talk and Walk event and learn all about these amazing and beneficial mammals.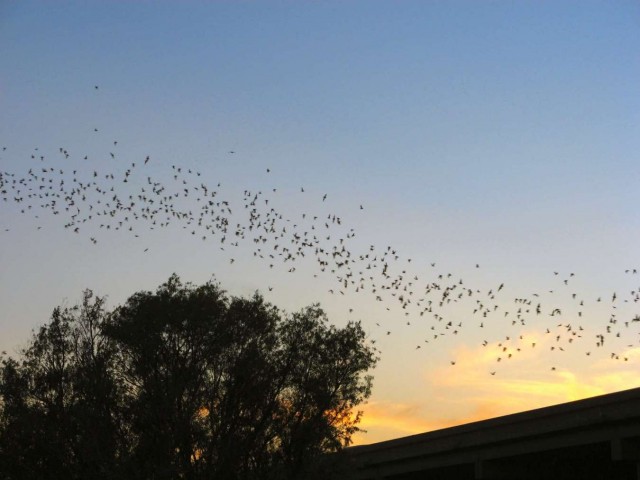 For the 2020 season, we are excited to offer hybrid programs, part virtual and part in-person, from late August through September. Social distancing measures have been put in place to ensure a safe and memorable experience for all.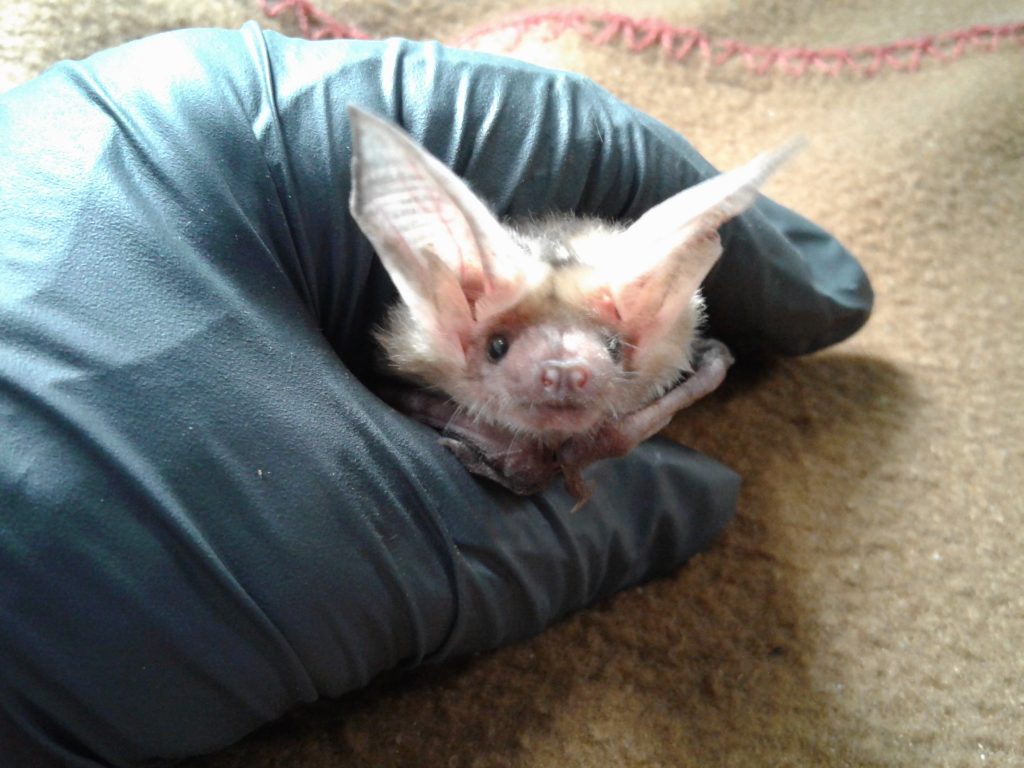 The Talk
The "Talk" portion of the event will be via Zoom*. Guests will have the option to choose from a variety of dates to watch the 45-minute live-virtual presentation on bat natural history.
*Guests will need to install the Zoom app on their computers or devices to connect for the Talk.
The Walk
For the "Walk", registered guests will meet at the Yolo Bypass Wildlife Area Headquarters, check-in while remaining in their cars, then travel as a group out to the Yolo Bypass Wildlife Area to watch the "flyout" of the largest colony of Mexican free-tailed bats in California. The bats emerge in long ribbons as they head out to hunt for insects for the night. To get to the viewing site, the group will caravan through wetlands and rice fields to an area not open to the public.
You will need to be able to transport yourself and household in your own car to and from the viewing location. The roads in the Yolo Bypass Wildlife Area are hard packed dirt. Public restrooms will not be available at the Headquarters or in the Wildlife Area. Those in wheelchairs or unable to walk may view the bats by car. Please let us know if you have special needs.
"Walks" will begin at the Yolo Bypass Wildlife Area Headquarters. Click here for directions to our Headquarters.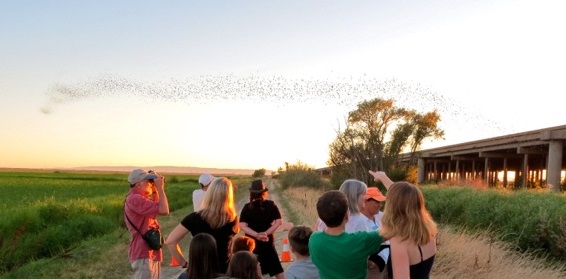 Registration Process
Registration for this year's hybrid Bat Talk and Walk program is a two-step process.
Register for the date you would like to attend the in-person "Walk" portion of the Bat Talk and Walk. In your confirmation email, there will be a link that will display the available Zoom "Talk" dates and times.
Register for the "Talk" that best fits your schedule. You will receive a Zoom link to join via email. Please consider your transportation time when choosing a "Talk". The "Talk" may or may not be on the same day as your "Walk".
You may reserve up to six spots at a time. All members of your group must be registered for the event.*
$15 – Adults
$5 – Youth (6-17 yrs. old)
5 and under are free
*By registering, you are agreeing to follow the safety measures outlined below.
Required Safety Measures for Walks
Each Walk is limited to 20 guests.
Guests must remain in their vehicle when at the Yolo Bypass Wildlife Area Headquarters. A volunteer will check in your group.
Participants will caravan in their own vehicles to the viewing location.
Once at the viewing location, participants will stay with their group. Each group will be given a specific viewing area in order to maintain required social distancing. Viewing areas will be marked with cones.
You will need to transport yourself and household/cohort in your own car to and returning from the viewing location. The roads in the Yolo Bypass Wildlife Area are hard packed dirt.
Maintain social/physical distancing of at least six feet from those outside your group/household including Yolo Basin Foundation staff and volunteers as well as other guests.
General Risk Prevention Measures

Per California and Yolo County Health Order, you must wear a face covering at the event. Face coverings can be made from a variety of cloth materials, such as bandanas, scarves, t-shirts, sweatshirts, or towels.
Do not come to the event if you have a frequent cough, fever, difficulty breathing, chills, muscle pain, headache, sore throat, recent loss of taste or smell, or if you or someone you live with have been diagnosed with COVID-19. To self-screen for symptoms, please refer to guidance from the CDC at: https://www.cdc.gov/coronavirus/2019-ncov/symptoms-testing/symptoms.html
Please bring your own supply of hand sanitizer to use during the program if needed. Wash hands frequently with soap and water for at least 20 seconds. Use hand sanitizer as needed if soap and water are not immediately available.
Practice other general public health measures including covering coughs, not shaking hands, and not touching common surfaces unless necessary.
Bat Walk Dates
Click on the date to purchase tickets.
Saturday, Aug. 29 – 7 p.m. – SOLD OUT
Thursday, Sept. 3 – 6:45 p.m. – SOLD OUT
Friday, Sept. 4 – 6:45 p.m. – SOLD OUT
Friday, Sept. 11 – 6:45 p.m. – SOLD OUT
Saturday, Sept. 12 – 6:45 p.m. – SOLD OUT
Sunday, Sept. 13 – 6:30 p.m. – SOLD OUT
Wednesday, Sept. 16 – 6:30 p.m. – SOLD OUT
Friday, Sept. 18 – 6:30 p.m. – SOLD OUT
Saturday, Sept. 19 – 6:30 p.m. – SOLD OUT
Wednesday, Sept. 23 – 6:15 p.m. – SOLD OUT
Saturday, Sept. 26 – 6:15 p.m. – SOLD OUT
/\ ^._.^ /\ /\ ^._.^ /\ /\ ^._.^ /\ /\ ^._.^ /\
"Bats swarm in Yolo County overpass"
KCRA, Tom Miller
---
"360° Video: Flight of the Bats"
(Best viewed on smart phone)
---
"These bats don't need a cave, they have a bridge"
KCRA, Tom Miller, July 13, 2016
---
KQED Quest: "Bats Beneath Us"
featuring Corky Quirk, Yolo Basin Foundation's bat expert
---
"The Invisible Mammal: The Bat Rescuer"
---
Additional Bat Links
Articles about the Bat Talk & Walks
Bat Organizations