Explorer Series is a program of science based field trips and hands-on workshops for adults who want to deepen their understanding and appreciation of the world around them. Our guest speakers include experienced naturalists, professionals and leaders in their field who enjoy sharing their talents and knowledge with others. 
Join us to explore our remarkable natural world!
Proceeds support environmental education programs for all ages that are offered by Yolo Basin Foundation.
---
2020 Explorer Series
Feb. 8 – Nature Photography Workshop – with Lewis Kemper – SOLD OUT
Mar. 7 – Mushroom Cultivation – led by Mike Davis  – SOLD OUT
Mar. 14 – Nature Printing with Fish: Gyotaku – led by Christopher Dewees – SOLD OUT

Mar. 24 – North Table Mountain Wildflower Excursion – led by Charlie Russell – Cancelled

Apr. 4 – Natural History of Sutter Buttes – led by Dr. Gene Trapp – Cancelled

May 9 – Yolo Bypass Flood System Tour – led by Marc Hoshovsky – Cancelled

June 20 – Hawks of Summer – led by Jim Estep – Cancelled
July 11 (Cancelled) & Aug. 25 – Batty for Bats – led by Corky Quirk
July 25 – Stargazing in the Yolo Bypass Wildlife Area – with Davis Astronomy Club – Cancelled
See below for additional details and registration
---
Nature Photography Workshop – with Lewis Kemper

Saturday, February 8 – SOLD OUT
1 – 9 p.m.
16 guests
$125/person
"Helping people improve their photography while having fun is one of my favorite things in life." ~ Lewis Kemper
World renowned nature photographer Lewis Kemper provides new insights, inspiration and instruction to photographers of all levels in this fun filled, educational workshop designed to enhance your photographic skills. The group will begin by exploring the essentials of composition and light in a classroom setting. Then, with the setting sun as a backdrop, the group will travel to the Yolo Bypass Wildlife Area to put your new knowledge into practice. After a light supper, participants will have the opportunity to present their photos for group discussion and critique.
Lewis Kemper has a degree in Fine Art Photography from George Washington University and has been photographing the natural beauty of North America for over 30 years. His work has been exhibited and published in magazines, books, and calendars worldwide. He has taught photography for many organizations including Palm Beach Photographic Centre, Santa Fe Workshops, Light Photographic Workshops, Aspen Workshops and Betterphoto.com. He is a contributing editor to Outdoor Photographer magazine. For more information about Lewis, visit www.lewiskemper.com.
This workshop takes place at the Yolo Bypass Wildlife Area Headquarters.
---
Mushroom Cultivation – led by Mike Davis

Saturday, March 7 – SOLD OUT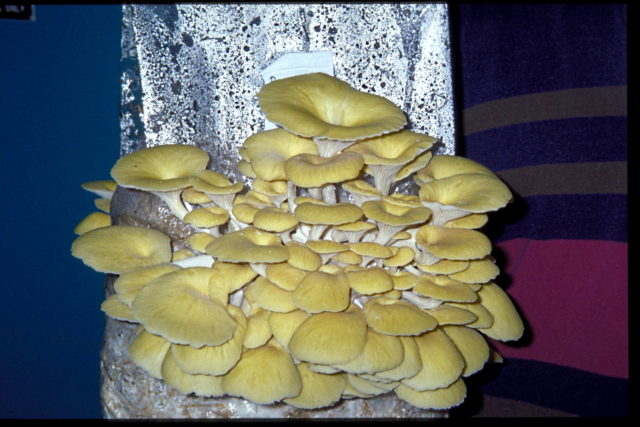 9:30 a.m. – 3:00 p.m.
18 guests
$125/person
Do mushrooms grow in the dark? Are they really grown on horse manure? What is their nutritional value? Find out in this one-day workshop on edible mushroom cultivation, located at the Yolo Bypass Wildlife Area headquarters. The workshop introduces methods of growing mushrooms, including basic mushroom substrate preparation, composting, spawn generation techniques, inoculation methods, harvesting, and pests and pest management. The history of mushroom production and recent trends in the diversification of edible mushrooms will be discussed. Participants will assemble two kits of edible mushrooms that will provide fresh mushrooms for the table.
Mike Davis is a retired Professor and Cooperative Extension Specialist in the Department of Plant Pathology at UC Davis, where he taught plant pathology classes as well as courses on mushroom identification, cultivation, and phylogeny. Most of his research focused on environmentally sound applications of disease management measures of fungal diseases of field crops and vegetables, including mushrooms. He has written popular articles and technical papers on mushrooms, including descriptions of several new species. He is lead author of Field Guide to Mushrooms of Western North America published in 2012.
---
Nature Printing with Fish: Gyotaku – led by Christopher Dewees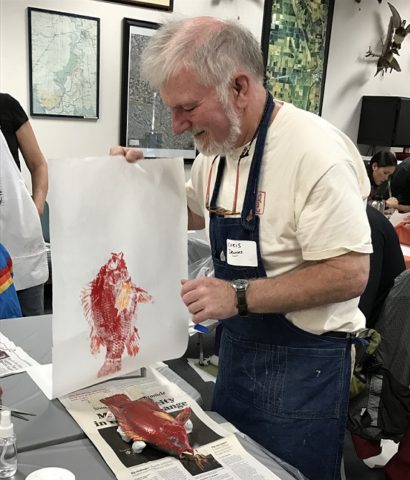 Saturday, March 14  – SOLD OUT
9 a.m. – 2:30 p.m.
16 guests
$100/person
"Every type of fish is unique and requires a different approach. I like to emphasize the structure and movement of the fish." ~ Chris Dewees
This hands-on workshop will emphasize the direct method of fish printing. Inks are applied directly to the fish and then transferred directly with your hands onto paper or fabric. All materials, including fish and small octopus, will be supplied, but participants are welcome to bring their own fabric, paper or fish for printing. By the end of this fun day, participants should have a stack of finished prints to take home as well as the knowledge to keep printing.
Chris Dewees has focused on Japanese fish printing, or gyotaku, since 1968, and is a co-founder of the Nature Printing Society. He has gained worldwide recognition for his talents with shows all over the world, and enjoys teaching others this Japanese art. His modern take on the art form blends his knowledge of fisheries and ecology to document the life histories of fish species. Chris has a published book, "A Life Among Fishes – the Art of Gyotaku". This book shares fifty years of his experiences and adventures with images of his gyotaku art and photos from his life.
Visit deweesnaturedesigns.com and his Facebook page to learn more about Chris' fish printing.
---
North Table Mountain Wildflower Excursion – led by Charlie Russell
Tuesday, March 24 – Cancelled
9:00 a.m. – 2:00 p.m.
20 guests
$100/person

North Table Mountain Ecological Reserve, located approximately seven miles north of Oroville, is one of the most spectacular wildflower locations in California, with over 540 different species of plants. With Charlie Russell as the guide, participants will search for early season wildflowers in a variety of microclimates – perhaps on the mountain top lava flows and vernal pools, or even grasslands, oak woodlands, and ravines. You will go where the flowers are blooming! Guests will meet at North Table Mountain, and spend the day walking on somewhat uneven terrain, traveling approximately 4-5 miles round-trip, enjoying a sack lunch along the way.
Charlie Russell is a Certified California Naturalist and wildflower photography enthusiast. He leads tours at Jepson Prairie Preserve and is a docent with the Yolo Basin Foundation. He has written many articles on places to hike to see wildflowers.
---
Natural History of Sutter Buttes – led by Dr. Gene Trapp
Saturday, April 4 – Cancelled
8 a.m. – 4 p.m.
20 guests
$150/person
Join us for a visit to "the world's smallest mountain range!"
Dr. Gene Trapp will lead this excursion as we learn about the geology, plants, and animals of the Sutter Buttes.  Dr. Trapp is a Professor Emeritus from the Department of Biological Sciences at California State University, Sacramento, where he taught Ecology, Mammalogy, Animal Behavior and Behavioral Ecology for 30 years.
The day begins at 8:00 a.m. in Yuba City where participants will get a short orientation on the geology, ecology, and human history of this diverse ecosystem in the middle of the Central Valley. Then we'll head to the historic Dean Ranch in the heart of the Buttes for a three mile hike through grasslands and oak woodlands in search of local animals and plants, and will discuss their ecological relationships. Lunch will be provided. The event will end back at the museum by 4:00 p.m.
---
Yolo Bypass Flood System Tour – led by Marc Hoshovsky
Saturday, May 9 – Cancelled

8:00 a.m. – 2 p.m.
21 guests
$100/person
The Sacramento River, between Davis and Sacramento, historically has experienced major floods, turning the Sacramento Valley into an inland sea of floodwaters.  The City of Sacramento, as well as many other cities and farms in the Sacramento Valley, are now protected from this flooding by the Yolo Bypass and other parts of an extensive flood control system.
Join Marc Hoshovsky to explore several key sites in the Yolo Basin to learn how this flood control system works. The group will carpool to the Fremont Weir, located at the floodwater entrance of the Yolo Bypass, and the Sacramento Weir, the last diversion of the Sacramento River upstream of Sacramento. Along the way, participants will learn about the history of flooding in the area,  how local people either adapted or fought back against the flow, and how the present-day flood control system was developed. Participants will enjoy lunch at the Yolo Bypass Wildlife Headquarters in Davis. After lunch, the group will have the opportunity to continue the tour and visit the floodway along lower Putah Creek and areas south where the Yolo Bypass waters flow uncontrolled on the west side.
Marc Hoshovsky is a retired naturalist who worked as a conservation planner for the California Department of Fish and Wildlife and the Department of Water Resources (DWR) for over 30 years. He led the development of DWR's Central Valley Floodway Conservation Plan, a key component of the Central Valley Flood Protection Plan. He has degrees in ecology and geology, and has a passion for local history and nature photography.
---
Hawks of Summer – led by Jim Estep

Saturday, June 20 – Cancelled
7 a.m. – 2 p.m.
18 guests
$100/person
Swainson's Hawk expert Jim Estep takes you on a popular, county-wide tour of the trees and agricultural fields where this California threatened species makes its summer home. Along the way, you'll have ample opportunities to identify and learn about other raptors as well as see a long-time egret and heron rookery. At the end of the tour, the group will stop for lunch at a lovely country home in the heart of Yolo County where you can share stories of the morning's adventures. This trip is perfect for beginner and more experienced hawk enthusiasts.
Jim Estep is a wildlife biologist who has been working with Swainson's Hawks for over 35 years. He has done research on various aspects of the species' ecology, prepared management and conservation plans, and conducted surveys throughout the Central Valley and elsewhere.
---
Batty for Bats – led by Corky Quirk
Saturday, July 11 • 5:30 p.m. – 9:00 p.m. – Cancelled

Tuesday, August 25 • 5:00 p.m. – 8:30 p.m. – Register

35 guests
$75/person
Be part of an exclusive bat experience with Yolo Basin Foundation's own bat expert Corky Quirk. You'll learn about their natural history and biology and even get an up-close look at live bats. After the program, you will caravan to the bat viewing site in the Yolo Bypass Wildlife Area, traveling past Green's Lake, an old oxbow of the Sacramento River. As the sun sets, the group will enjoy drinks and hors d'oeuvres as you await the spectacular fly-out of hundreds of thousands of Mexican free-tailed bats.
---
Stargazing in the Yolo Bypass Wildlife Area – with Davis Astronomy Club

Saturday, July 25 – Cancelled
7:30 p.m. – 11 p.m.
35 guests
$100
Enjoy a stargazing tour of the night sky with amateur astronomers from the Davis Astronomy Club. This will be a captivating tour of the constellations, views of Jupiter and its four largest moons, Saturn and its beautiful rings, the Moon and its stark craters and seas, star clusters, galaxies, and some unusually colored stars! Guests will meet at the Yolo Bypass Wildlife Area Headquarters building and then head to the Yolo Bypass Wildlife Area for viewing. The evening's event will include a short talk about the history of major constellations and an orientation of the nighttime sky. As the sun sets, the group will enjoy drinks and hors d'oeuvres.
The Davis Astronomy Club is comprised of local amateur astronomers who love to share their passion for astronomy with people of all ages. They bring astronomy events and new information to the public through lectures and stargazing parties at Explorit Science Center in Davis and various Yolo and Solano county locations.
---
Can't make it? Consider making your payment a tax-deductible donation.
Please be certain you are able to attend before registering for a program. All refunds due to participant withdrawal are subject to a $10 administration fee. No refunds will be given within 14 days prior to the start of the program.