Flyway Nights is a monthly speaker series highlighting environmental issues, current research topics in conservation,
and natural history of Northern California wildlife.
Talks are scheduled on the first Thursday of the month from November through April, 7 P.M.
Flyway Nights 2016-17 Season
November 3, 2016 – Butterflies, Weeds, and Novel Ecosystems
Dr. Art Shapiro, Distinguished Professor of Evolution and Ecology, UC Davis
Whether in the city or in the country, Sacramento Valley butterflies are living under conditions far different from those in which they evolved. A great many are now dependent on non-native host plants and other resources. In his talk, Dr. Shapiro will use our resident butterfly fauna to examine the broader question of novel ecosystems and the biosphere of the Anthropocene.
Shapiro is the author of more than 300 scientific papers, nearly all on butterflies, and the "Field Guide to the Butterflies of the San Francisco Bay and Sacramento Valley Regions" (UC Press, 2007). Currently, he is working on a new book on community ecology in the Anthropocene.
December 1, 2016 – Unprecedented Opportunities: Integrating Environmental Literacy into K-12 Education for All Californians
Bryan Ehlers, Assistant Director: Education and Environmental Affairs, CalRecycle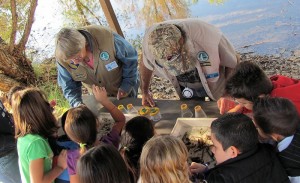 A recent convergence of events in California's educational landscape has created "Goldilocks" conditions for fostering environmental literacy among our more than six million K-12 students.  We'll discuss the factors that have contributed to the convergence, as well as the unprecedented opportunities for educators, parents, and community organizations to help prepare the next generation to chart a sustainable future.
As Director of CalRecycle's Office of Education and the Environment, Bryan Ehlers oversees implementation of the California's landmark Education and the Environment Initiative and its vision for integrating environmental literacy into everyday K-12 instruction. Prior to his time with CalRecycle, Bryan worked on the state budget with both the California State Senate and the California Department of Finance. In an early life, he taught for several years in the Hayward Unified School District and provided direct care to emotionally disturbed children in the woods of New Hampshire.
January 19, 2017 – Understanding California's Sustainable Groundwater Management Act:
Will It Keep the Wells from Running Dry?
David Sandino, California Department of Water Resources
Groundwater is one of California's most important natural resources, but it is also one of the least appreciated and understood. Sacramento Valley farms and many California cities, including Davis and Woodland, depend on groundwater to meet their water demands. Adopted in 2014, the Sustainable Groundwater Management Act (SGMA) made important changes to how groundwater is managed in California. Before SGMA, many groundwater basins were unmanaged, which has led to significant problems with groundwater overdraft, land subsidence, and groundwater quality. SGMA is the first California law that has attempted to manage groundwater in a comprehensive, statewide manner.
David's presentation will explain how SGMA works, some of its limitations, and its current state of implementation. It will focus on implementation issues in the Sacramento Valley and the connection with SGMA and environmental protection. It will also cover how Tribal communities and disadvantaged communities may participate in SGMA.
February 2, 2017 – The Sound of Silence
Brian Keeley
Brian Keeley's talk will be an overview of bats here and around the world with a description and demonstration of what echolocation is, how bats use it to "see" in total darkness, and how we use it in everyday life.
Brian has been studying bats for over 20 years. His studies include the role bats play in pollination and seed dispersal in tropical forests, their role in the world's ecosystems, and how their activities benefit humans. Brian is one of the lead coordinators for an International Symposium on the Study of Bat Echolocation.
March 2, 2017 – Life history, ecology, and conservation of the giant gartersnake (Thamnophis gigas) in California's Great Central Valley
Eric C.Hansen, Consulting Biologist

The giant garter snake is a federal- and state-listed species endemic to California's Great Central Valley. Associated with low-gradient streams, wetlands, and marshes of the Valley floor, giant gartersnakes are among California's most aquatic reptiles. The conversion of Central Valley wetlands for agriculture and urban uses has resulted in the loss of as much as 95% of historical habitat for the giant gartersnake. Cryptic and notoriously wary, this species is among the most difficult of California's garter snakes to study, yet ecological information on which to base management and regulatory decisions urgently is needed to guide decision-making. This presentation will provide notes on the habits and ecology of giant gartersnakes, discuss the role of land use and water management on their current distribution, and provide insights regarding the steps needed to maintain the species into the future. Attendees will also be provided with a discussion of steps the citizen scientist can take to assist with the recovery of this highly-charismatic animal.
Eric Hansen is a herpetologist living in Sacramento. Raised and inspired by his herpetologist father, Mr. Hansen completed his undergraduate studies with a Bachelor of Science degree in Evolution and Ecology at the University of California, Davis and earned his Master of Science degree in biology at California State University, Chico. Specializing in threatened and endangered reptiles and amphibians of the Central Valley, Mr. Hansen has a lifetime of experience with the giant gartersnake and has focused on this species as an independent consultant and researcher since 1998.  With primary interests centering on conservation ecology, Mr. Hansen's collaborative projects have covered a range of interests, including population genetics, contaminants and toxicology, demography, and spatial ecology.  Along with his dedicated staff, Mr. Hansen works collaboratively with private firms, NGO's, government agencies, and academic institutions throughout the Central Valley.
April 6, 2017 – Madagascar – A Floerke Travelogue
Rob Floerke and Dale Hoffman-Floerke, World Travelers & Photographer Extraordinaire
Madagascar! Please join us as Rob Floerke and Dale Hoffman-Floerke share a pictorial presentation of their recent adventure to the world's fourth largest island.  The island broke away from Africa over 150 million years ago, and the resulting isolation makes it a living laboratory of evolution, with many plants and animals found nowhere else on earth! Madagascar is a place that conjures up images of some of the most amazing wildlife, along with spectacular landscapes you will find on the planet.  In addition to the unique flora and fauna, the gracious and friendly and almost always smiling native people of Madagascar provided a well-rounded cultural experience to a most outstanding Natural History experience.
The Yolo Basin Foundation offers Flyway Nights the first Thursday of the month from November to April. The talks are held at the Yolo Bypass Wildlife Area Headquarters at 45211 Chiles Road. A $5 donation to support the Foundation's wetland education programs is suggested. Yolo Basin Foundation members are free. Seating is on a first-come, first-serve basis: capacity 70 guests. For more information call Yolo Basin Foundation at (530) 758-1018.