Flyway Nights is a monthly speaker series highlighting environmental issues, current research topics in conservation,
and natural history of Northern California.
Talks are scheduled at 7 p.m. on the first Thursday of the month

from November through April.

This year's events are going virtual, via Zoom.
Pre-registration will be required to receive event link. Flyway Nights is free to Yolo Basin Foundation members and open to the public. A $5 donation is suggested for non-members.
---
2020-21 Flyway Nights Schedule
Thursday, November 5, 2020 at 7 p.m.

– REGISTER
Yolo Basin Foundation

Graduate Student Fellowship Recipients
Boosting juvenile salmon survival using the rice fields in the Yolo Bypass – Rachelle Tallman, UC Davis Graduate Group in Ecology

It has been shown that Chinook salmon reared on rice fields have high growth rates due to the warm temperatures and high food concentrations found within these agricultural floodplains. Yet it remains unclear whether these growth rates result in higher survival to the ocean. Rachelle used acoustic telemetry to track juvenile salmon from Sacramento out to the Golden Gate Bridge in order to test whether raising salmon on winter-flooded rice fields had higher survival compared to fish reared in a laboratory (hatchery) setting. Rachelle's research interests focus on improving fisheries conservation through alternative management strategies and developing a better understanding of how certain ecosystems function.
What do bats eat? Genetic analysis of bat guano – Ann Holmes, M.S. Graduate Group in Ecology & Genomic Variation Lab
As the sun sets on Yolo Bypass, thousands of Mexican free-tailed bats leave their roosts to feed. Scientists and farmers agree that these bats benefit rice and other Sacramento Valley crops by eating moths and other pests. However, the bats usually fly too far and high for us to observe their feeding behavior. Previous observations of bat diet have been limited to guano dissection. This study uses genetics to identify insects eaten by bats. I will describe how four undergraduate student researchers and I sampled bat guano in the summer of 2019 and 2020, how we use genetics to study bat diets, and what we expect to find.
Thursday, December 3, 2020 at 7 p.m. – REGISTER
Peaks, Valleys, and Farms: Insights into the complex heritage of Western red foxes
Sophie Preckler-Quisquater, UC Davis Mammalian Ecology and Conservation Unit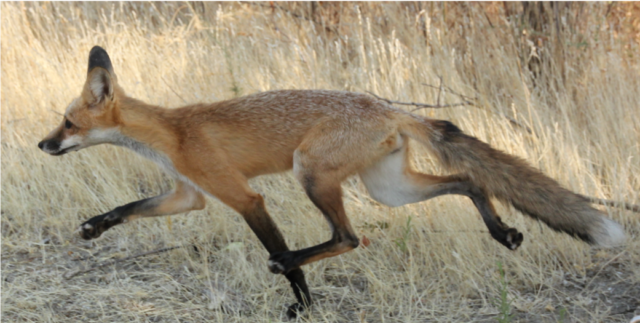 The Sacramento Valley red fox (SVRF, Vulpes vulpes patwin) is endemic to the northern Central Valley of California. It is considered a State Species of Greatest Conservation Need due to its decline in abundance from historical levels and restricted distribution. While its closest relative, the Sierra Nevada red fox (Vulpes vulpes necator) occupies high elevation, subalpine habitat, the Sacramento Valley red fox appears to be uniquely adapted to the semi-arid, lowland region that is its namesake. Along with habitat loss, hybridization with nonnative red foxes of fur-farm origin has been identified as a threat to the genetic integrity of the Sacramento Valley red fox along the southern edge of its range. Sophie uses a combination of traditional wildlife monitoring techniques and "next-generation" genomic tools to characterize the ecology and evolution of this endemic subspecies, and address the potential consequences of continued hybridization with the nonnative red population.
Thursday, January 7, 2021 at 7 p.m.

– REGISTER
Current Status of the Yolo Bypass Wildlife Area
Joe Hobbs, Yolo Bypass Wildlife Area Manager
The nearly 17,000 acre Yolo Bypass Wildlife Area is situated within the historic Yolo Basin of the Sacramento Valley, between Davis and West Sacramento. Area Manager Joe Hobbs will give an overview of the Yolo Bypass Wildlife Area along with its current management status.
Joe Hobbs has been the Yolo Bypass Wildlife Area Manager since early 2018. Previously, he was the Statewide Elk and Pronghorn Coordinator. During his 18 years with the California Department of Fish and Wildlife, he has worked in the wetlands program, timber harvest review, and the private lands management program. He also worked for the Department from 1992 to 1997 in Wildlife Management as a student assistant while going through undergrad and graduate school at California State University, Sacramento. Joe completed his M.S. on the Fall and Winter Distribution and Habitat Use of the Tule Greater White-fronted Goose in the Sacramento Valley, California.
Thursday, February 4, 2021 at 7 p.m

.

– TBA
Thursday, March 4, 2021 at 7 p.m.

– TBA
Thursday, April 1, 2021 at 7 p.m.

– TBA

---
Yolo Basin Foundation offers Flyway Nights on the first Thursday of the month from November to April. A $5 donation to support the Foundation's wetland education programs is suggested. Yolo Basin Foundation members are free. For more information, call Yolo Basin Foundation at (530) 757-3780.